WHY ABU DHABI
Discover the Abu Dhabi difference
Ease of Doing BusinessEnable GingerCannot connect to Ginger Check your internet connection
or reload the browserDisable in this text fieldEditEdit in GingerEdit in Ginger×
Why Abu Dhabi
Abu Dhabi provides a unique opportunity for businesses looking to establish and grow in the Middle East.

As the capital of the UAE, Abu Dhabi has a diverse and sustainable economy that facilitates success for innovative businesses in the short- and long-term.

Abu Dhabi offers unrivalled connectivity to the business world, with 80 per cent of the world's population within an eight-hour flight. We are ranked number one in the region for ease of doing business, offer access to world-class talent and state-of-the-art infrastructure and connectivity.

Coupled with one of the world's most accommodating tax environments (0% corporation tax and 0% income tax), and a quality of life unmatched anywhere else in the region, Abu Dhabi is the right place to grow your business, today.
To find out more about Why Abu Dhabi is the ideal destination for your business, download the 2021 Abu Dhabi Prospectus.
Abu Dhabi Investor Guide
Starting or growing a business in a new part of the world can be a daunting task. That is why Abu Dhabi has made steps to make it as easy as possible – in fact we are number one in the region for Ease of Doing Business.

To help guide you as you take your first steps towards exploring the opportunities in Abu Dhabi, we have created the Abu Dhabi Investor Guide.

The guide provides everything you need to know about starting or expanding your business in Abu Dhabi. From securing a company name to registering for the correct licences and finding an office and world-class talent to fill it.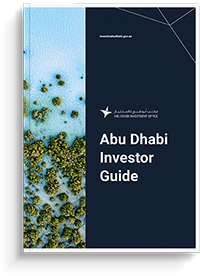 Download the Abu Dhabi Investor Guide here.
For more information, please get in touch with our team so we can further support you and help you grow your business in Abu Dhabi.
Strategic Location
Abu Dhabi is the gateway to the Middle East, Africa and South Asia combining world-class infrastructure and easy access.
Allows access to

1/3 of the world's population within four hours
80% of the world's population live within an eight-hour flight from Abu Dhabi
It is our unique location coupled with our thriving, fast-paced economy that makes Abu Dhabi one of the most diverse destinations in the world, connecting businesses with 4.5 billion customers across four time zones.
The UAE Capital
Abu Dhabi is the capital of the UAE and the largest emirate by both size and GDP contribution. All federal government offices are headquartered in Abu Dhabi, providing convenient and timely access to services.
Constitutes 60% of the UAE's economy
The largest emirate by geography, accounting for 87% of the UAE
Talent
Human capital is a cornerstone of innovation.

Abu Dhabi aspires to empower and drive local innovation by developing young local talent and attracting international talent with a focus on science, technology, engineering, mathematics and entrepreneurship. Our world-class higher-education facilities provide the ideal environment to foster bright new talent and the next generation of innovators and leaders.
Innovation
As the capital of the UAE, Abu Dhabi is at the forefront of the nation's ambitious innovation strategy. The emirate attracts global technology experts and entrepreneurs who use the UAE as a launchpad for breakthrough innovations. On a federal level, the UAE was the first country to appoint a Minister of Artificial Intelligence (AI) and recently, became the first Arab nation to send an astronaut to the International Space Station.
The UAE is dedicated to the use of technology to improve the delivery of government services and increase life satisfaction for all residents and visitors. In addition to ambitious investments and research into cutting-edge technology including AI, blockchain, 3D printing, autonomous transportation and the hyperloop, the UAE supports programmes to boost local tech talent.
Abu Dhabi ranked 2nd in the region for Smart City Development 2018 – McKinsey
Abu Dhabi ranked Most Developed Technology Base in the Middle East 2018 – McKinsey
Abu Dhabi is home to Hub71, a global tech ecosystem with a full suite of support for startups and companies including office space & housing
Mohamed bin Zayed University of Artificial Intelligence (MBZUAI), world's first AI University planned for Abu Dhabi
Significant support for R&D development available to both corporates & academic pursuits from the Abu Dhabi Research & Development Authority (ADRDA)Abu Dhabi has a best-in-class regulatory environment
The UAE was the first country to appoint a Minister of AI in 2017
The UAE ranked 1st in the gulf in the Global Innovation Index 2019 - INSEAD, WIPO
Lifestyle
Following in the traditional hospitality of the Bedouin people of the Arabian Gulf and the leadership of the late Sheikh Zayed Al Nahyan, founder of the UAE, the Abu Dhabi government consistently prioritises the wellbeing of its residents and visitors. Today, Abu Dhabi is recognised among the world's leading cities for quality of life and is consistently ranked as one of the world's safest cities. Abu Dhabi is home to top academic institutions and advanced healthcare facilities, providing a trusted foundation for families and professionals. Abu Dhabi is a diverse multicultural and multilingual community with a rich annual calendar of cultural opportunities from sport to the fine arts.
Abu Dhabi Ranked safest city in the world for 4 consecutive years2020 – Numbeo
Abu Dhabi ranked 2nd in the region in Quality of Living City Ranking 2019 – Mercer
Advanced healthcare facilities including: NMC, Cleveland Clinic & Johns Hopkins
Abu Dhabi recently launched Sheikh Shakhbout Medical City in partnership with Mayo Clinic and is the first of its kind in the UAE to provide advanced burn treatment and expand access to specialty care services like orthopedic and thoracic surgery
American, British, Indian, German & French International Schools
Tax free salaries
Infrastructure
Abu Dhabi offers state-of-the-art transportation infrastructure to meet business and lifestyle needs across the emirate. Owing to its strategic geographic location, businesses and residents of Abu Dhabi have access to unmatched variety in markets and travel destinations. Domestic infrastructure is modern, efficient and well-maintained, providing reliable accessibility around the clock.
Abu Dhabi International Airport named 'Best Airport in the Middle East' 2019 - Airports Council International
Abu Dhabi's soon to be launched Midfield Terminal will further augment Abu Dhabi as a global transit hub
Etihad has a capacity of 23m+ passengers per annum; the new terminal will increase passenger capacity to 45m
Khalifa Port, the Emirate's flagship port is the first to be semi-automated in the Gulf region and one of the most technologically advanced in the world.
One hour drive to Jebel Ali Port in Dubai, the world's 9th busiest port
Connectivity
In line with the UAE's commitment to an innovative, digital society, Abu Dhabi delivers competitive ICT connectivity for businesses and individuals. The UAE consistently enjoys top rankings for ICT readiness, internet and smartphone penetration.
Investment Environment
Abu Dhabi is a proven expansion ground that plugs investors directly into the Arab world's second largest economy and some of the world's fastest growing markets. The emirate boasts proximity to one of the world's busiest ports, and access to 80 percent of the world's population within an eight-hour flight. Abu Dhabi provides investment opportunities across diverse sectors from FinTech to Ecotourism and offers a dynamic place to do business, invest, live and work.
94 separate agreements with foreign nations are implemented to avoid double taxation on overseas investments
Competitive tax rates: zero corporate tax, zero income tax, low VAT rate of only 5%
Up to 100% profit repatriation in Special Economic Zones
No minimum requirement for company set-up
Stable currency pegged at USD/AED: 3.67
Readily available capital for state-of-the-art technology
Ability to handle high volume commodities
Electricity generation capability supported by inexpensive energy sources
Preferential access to external production sites for raw materials
Capital Availability: equity/debt via local market players such as: venture funds, banks, family offices, private equity funds, SWFs
Specialised Economic Zones: attracting diversified tenants in fields such as: industrial, finance, media, logistics and sustainable energy
Attractive lease rates for existing office and warehouse space, land at competitive prices and utilities rates
Ease of Doing Business
Abu Dhabi's commitment to innovation, collaboration and wellbeing contributes to a world-class business environment in the capital. Among the competitive advantages enjoyed by businesses in Abu Dhabi are 100 percent foreign business ownership in free zones, cost-exemptions for the first two years of business, and a zero percent tax rate. New programmes, including long-term residency visas, dual licenses and 100 percent onshore ownership in core sectors, are further enhancing the ease of doing business in the emirate.
Abu Dhabi is ranked 12th globally in the Ease of Doing Business Subnational Report 2020 by the World Bank

The UAE ranked 1st for ease of electricity connection in the Ease of Doing Business Report 2020 - World Bank
The UAE is ranked the 3rd for dealing with construction permits in the Ease of Doing Business Report 2020 - World Bank
100% ownership for offshore and free zone companies
Cost exemption local fees for two years from date of issuing licence
Free registration and licence fees for new businesses and freelancers for their first two years
Gold Card long-term residency scheme
Dual license facilitates business operations across Abu Dhabi
Upcoming new license categories & processes
Stay up to date with the latest
news & event